How to Build an On-Demand Ridesharing App- "Start Your Venture Within Days"!
32 Views

10

min

February 13, 2023

Last Updated: August 23, 2023
World's first taxi along with a taximeter was built in London back in 1897. Since then, the taxi industry has seen growth and never turned back. A taximeter made cab drivers adapt to new business models as per societal and legislative demands. The global On-Demand Ridesharing App industry has seen a transformation and disrupted the traditional business model.
Now the real-time ride-sharing industry has gained popularity with game players like Lyft and Uber. These Ridesharing Carpool Apps experienced phenomenal growth as they helped passengers find one-way rides in a very limited time period. Firstly, this concept was discovered by Uber in 2009, and became a prominent market player with 93 million customers onboard. On-Demand Ridesharing App resolved big issues and offer customers a chance to reserve a ride on their mobile devices. Let's first talk about leading players, market trends, and major features to understand the business model of Ridesharing App Development
Top 3 Popular Ridesharing Carpool Apps
Uber
The company has seen a meteoric rise over the years with 110 million customers all over the world. Uber brought a revolution in transportation. Somehow, Uber followed the approach of "uberization" to be an effective model while serving all needs of end users.
LYFT
LYFT offers its customers an accessible, memorable, and unexceptional user experience. the Ride-Hailing Software allows you to book a trip at a discounted price. However, It has a short waiting time as drivers don't have to wait for more as several passengers are involved here easily.
GoJek
GoJek is a rideshare app with a variety of transportation options. The app connects drivers with riders and allows them to ride on the backs of motorcycles. In addition, GoJek helps customers move heavy items and perform a wide variety of additional tasks.
Current Market Cap of Ridesharing App Development
Rideshare Software is the talk of the hour nowadays! These apps are becoming famous as the market continues to grow each year. However, a few apps like Uber and Lyft have taken a majority of this growth market and left others behind. This is because they are providing high-quality services to customers at a reasonable price. If you want to enter the space and Build Ridesharing App, it's a perfect time!
The global ride-sharing app industry is predicted to rise by more than 115 percent between 2021 and 2026.
The market value of international Ridesharing Carpool Apps is anticipated to increase from$85.8 billion in 2021 to $185.1 billion by 2026.
The global ride-sharing market grew by more than 50% in 2022.
Despite strong growth, the market is projected to grow even faster over the next years and is expected to reach20% CAGR between 2019 and 2025.
Today Uber mobile rideshare app has over 77 million riders and 2 million drivers at any given time. That's quite impressive! Build an On-Demand Ridesharing App with unique features and additional functionalities to mark your place in the market. Create a better way for people to get around town than other apps or public transportation methods could offer.
Build an On-Demand Ridesharing App To Grow Your Business
Ridesharing Carpool Apps have made users more comfortable and also provided businesses with more value while staying sustainable. Here are some benefits of creating a rideshare app for your business: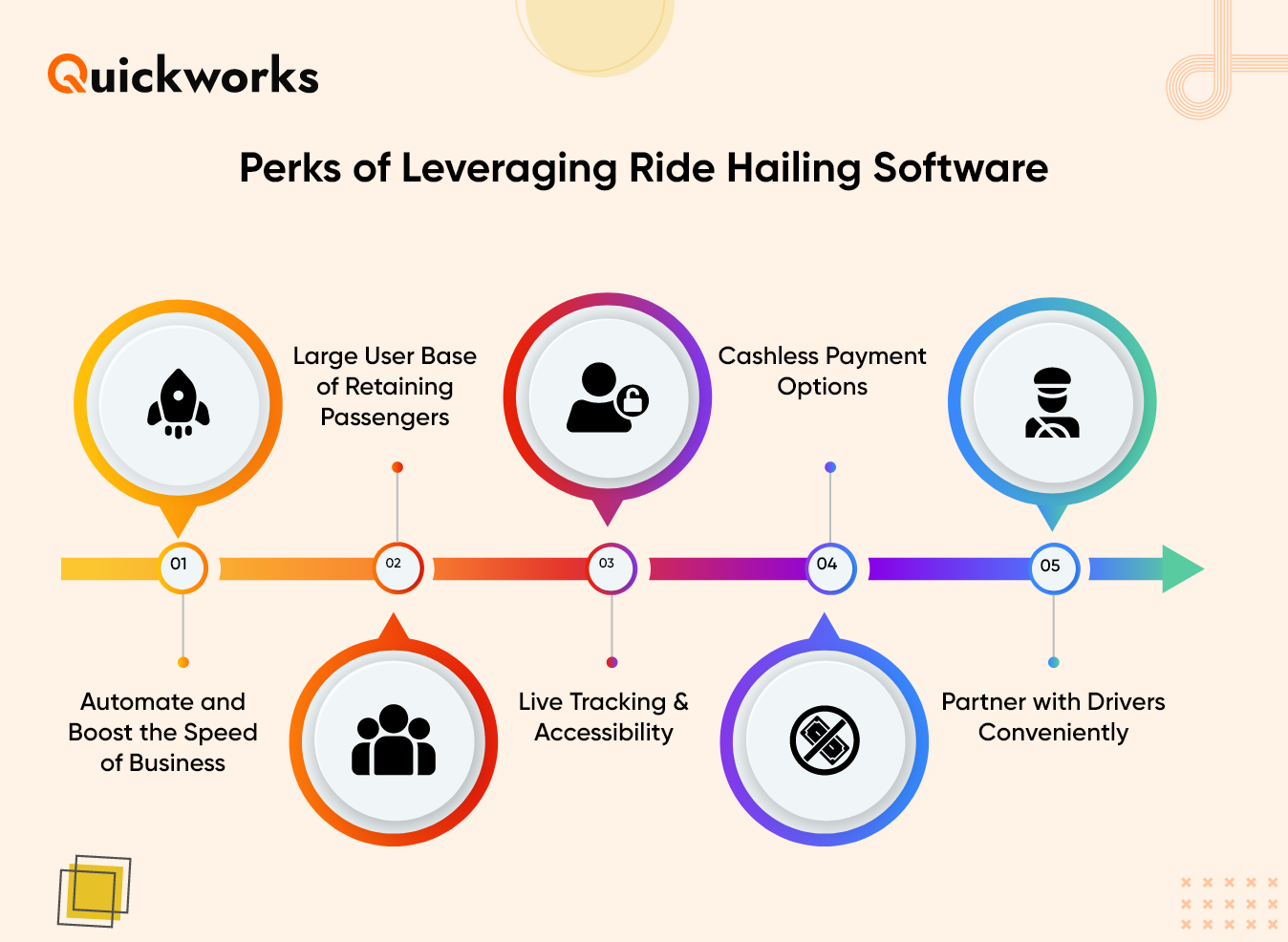 1 Building Brand Awareness
Brand popularity is the most crucial aspect of the success of any business. Companies like LYFT and Uber have established a strong reputation in the industry today. Their inbuild Ride-Hailing Software emphasized credibility, offered unmatched customer service, and increased brand awareness. As a result, they stayed afloat and unique even in an era of cut-throat competition. If you want to stay competitive, make sure to avail customized and personalized Ridesharing App Development to make your application more attractive.
2 Collect Valuable Data From Riders
Converting leads into regular customers requires you to offer them quality services according to their preferences and needs. Riders can download your Rideshare Software and log in by creating an account with their email address or mobile numbers. Such apps collect important data about customers like location, contact information, and much more. Whenever they book a ride, aspects like the choice of a cab, time and distance traveled, number of times a ride booked, and others are monitored carefully by admin. These details are analyzed and personalized notifications are sent to riders with lucrative offers like discounts, coupons, etc to create a loyal customer base.
3 Regular Feedbacks
Customer feedback and reviews highly influence the business. The identity of your On-Demand Ridesharing App is analyzed by how much loved and popular the app is among customers. The ratings given by users help to determine the areas of improvement and appreciate the ones who are doing well. Similarly, your ride-sharing service is enhanced by giving a competitive advantage. Modern taxi services offer riders the comfort of transportation at their fingertips which was neglected by the traditional system. Businesses end up having higher visibility and an increased user base.
4 Real-time Location Tracking
In this era of digitalization, most people book cabs via Ride-Hailing Software which is easy and convenient. The biggest perk of hiring a Ridesharing App Development Company is that they give build an app with Real-time tracking features. Tracking the location of the driver and passenger helps you get the exact location at every single moment. Just not this, your passengers will also get to know the exact time duration when the cab will arrive and the driver gets aware of the customer's pickup and drops location timely.
5 Monitoring Driver's Efficiency
Create a Rideshare App to monitor the efficiency and productivity of your cab drivers. Sometimes their behavior can affect your vehicle utilization, fuel expenditure, customer satisfaction, and other factors. For instance, if the driver didn't arrive to pick up the passenger and the ride gets canceled or he takes a long route for the trip, then needed action can be taken by the admin. In some cases as per customer's feedback, if the driver gets rude or unprofessional- then it would be taken care of immediately. All this system improves the efficiency and performance of your ride-sharing business.
6 Business Growth with Improved ROI
The traditional taxi business was not so advanced and booking was an arduous task back then. But with new age ride-sharing apps, the cab booking market is now working on autopilot mode. Riders can now book their cab seamlessly through an app and access details in advance to make a hassle-free payment. Hence, Ridesharing App Development improves your ROI and leads to the growth of your business.

Design a Perfect Ride-Hailing Software With The Right Features
User Panel
# Registration
Start With the basic signup and login section of the app where users can create their account with their social network or email credentials.
# Find Rides
Customers can book their rides for particular destinations and see if other users are willing to take the same routes.
# Schedule Rides
Users can schedule the rides with the co-travelers and drivers to avoid any last-minute confusion.
# Payment
Riders can split the payments depending on the fare calculated and the individual distance traveled.
# Contact
Users can communicate with their travelers and drivers before taking the rides to ask about the pickup location and estimated time.
# Cancel Bookings
In last-case emergencies or issues with the route taken by the co-traveler, riders can also cancel bookings
Driver Panel
# Login Account
Under this section, the drivers can register into the app whenever the admin provides credentials to them.
# Accept/Reject Request
The driver can be assigned a real-time request and he can accept or reject the assigned request.
# Trip Information
The driver can analyze the trip information like pick-up location and drop-off destination along with the estimated distance.
# Built-in Navigation
The driver can identify the pickup location of the user and co-traveler to find out an optimized route for saving time and energy.
# Contact Passenger
The driver can contact the passengers to ask about landmarks or the exact route for picking up the users in a minimized time.
# Receive Payment
Drivers can receive the payments made by the user and the co-traveler to balance the fare and generate invoices accordingly.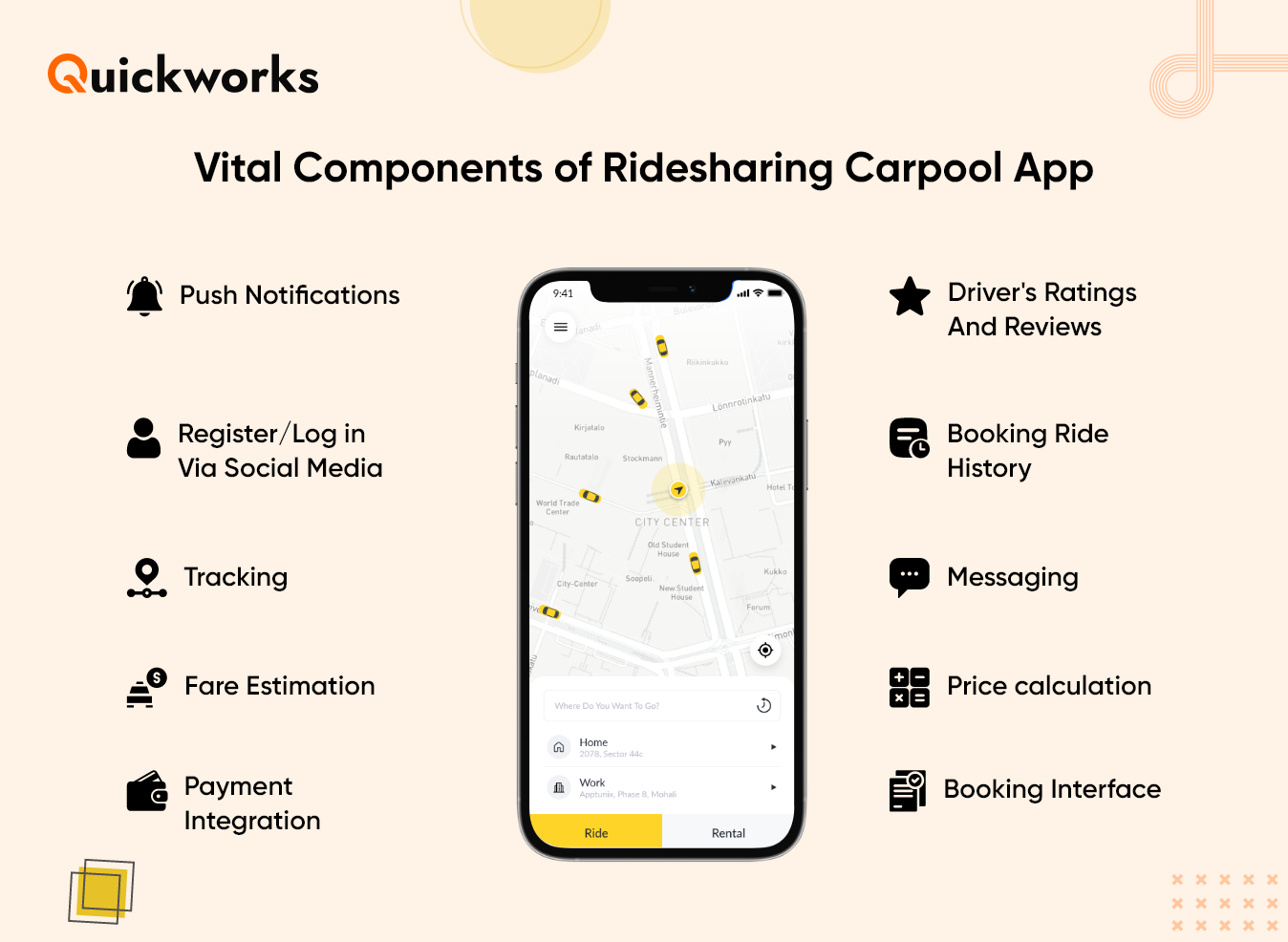 Admin Panel
# Manage Dashboard
Admin manages all the drivers associated with the app and the rides taken by them on a daily basis.
# Car Share Details
All the riding machines and scheduled rides attuned with the app booked by the users are managed and stored by the admin.
# Manage Car Models
All the pick-up suggestions, co-travelers, car models, and their details are listed and monitored by the admin.
# Ride and Driver Report
Admin can check and verify the number of rides taken, the car model used, reviews given by users, and the total distance covered by drivers.
# Manage Rates
According to the variations in the prices as per KMs covered and the fuel, the admin can change the fare structure.
# Loyalty Points and Rewards
Admin can also reward some users with free rides and coupons upon the successful referral if they are using the app for a longer time.
Create Your Own Rideshare App With These 5 Easy Steps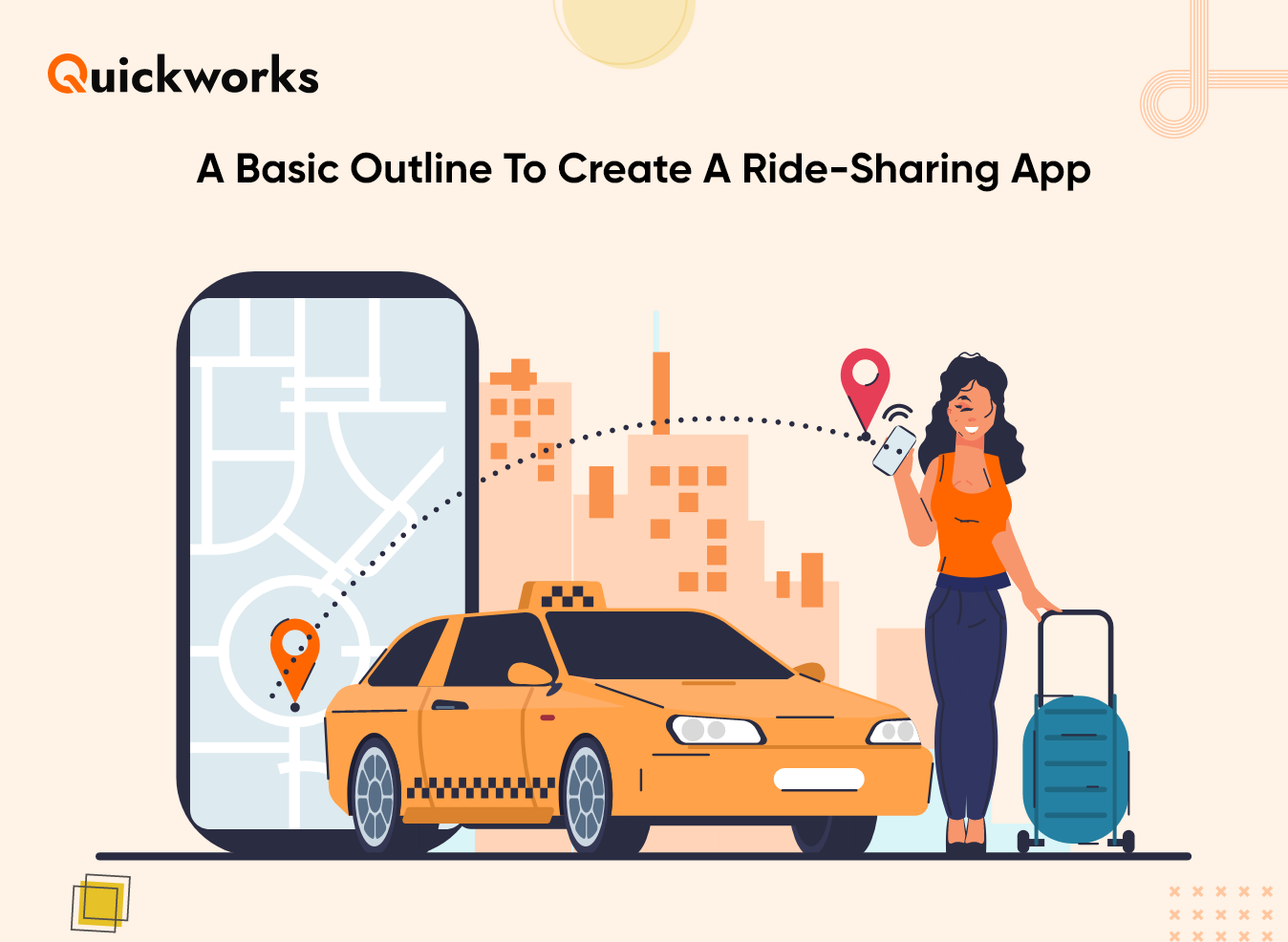 1 Perform Market Research
Before launching any product, research the market and then release it with perfection. Make sure you take into account two reasons Convenience and Low cost. The ride-sharing market is expanding exponentially and showing tremendous growth but you still need to examine the competition. Your business can fill in the gaps of current applications and get additional features that set your product apart from others. Have an accurate value proposition and revenue model of your competitor to move forward with assurance.
2 Analyse Value Proposition
Entering the On-Demand Ridesharing industry is somehow complex if your product doesn't stand out from the competition. Hence, it becomes significant to move ahead with correct ideation, analysis, and extensive market research. This will help you identify a marketable niche or distinguishing trait. Make sure you choose the functionalities that work best for your business and the audience you intend to reach.
3 Pick the Development Approach
# Native App Development
To make your Ride-Hailing Software compatible with several platforms, you will need to hire a Ridesharing App Development Company. Native App Development involves writing separate versions of the code for each system and Building Ridesharing App that can run on Android and iOS. However, it is more expensive but the benefits are superior. You get a great user experience and brisk performance which is worth your expense.
# Cross-Platform App Development
It is basically a practice of Ridesharing App Development for multiple platforms (Android, iOS, and web) from a single source codebase. The Cross-Platform App Development process takes less time and money to make you market-ready. Major cross-platform app platforms offer compatibility with native apps.
#Hybrid App Development
Create an On-Demand Ridesharing App with HTML5, CSS3, or JavaScript code. Unlike native apps, hybrid apps cannot be used on different platforms. They don't offer a better user experience or perform better than cross-platform apps.
Note- If you are ready to build Ridesharing Carpool App instantly, SaaS app development is your way!
4 Develop a Minimum Viable Product
While designing Rideshare Software, you can either choose a full product development approach or a minimum viable product (MVP). If you have a low budget, creating a minimum viable product is worthwhile. The main objective of creating an MVP product is to Build an On-Demand Ridesharing App for defining the app's value proposition and enticing potential supporters and early customers. Test your idea on the real audience before launching your product and get their thoughts on making it better!
5 Product Launch and Evaluation
Now that you have tested the minimum viable product (MVP), you will have to get it tested by a certified quality assurance team. When you are satisfied with your app and see it is error-free, only then you can submit it to the app store for distribution. This process may take a few days to get approved by the app stores and released to the public.
What QuickWorks Brings To Your Table?
When it comes to innovative Ride-Hailing Software, build one that makes your business an easy and feasible alternative. The audience needs to affirm the product so that they can avoid traveling via personal vehicle and hold on to your Ridesharing Carpool App for a long. QuickWorks has been delivering solutions that can make it convenient for you to launch your business digitally and drive the targeted audience. Get QuickRides solution and let your customers choose their ride, pick vehicle type and check the estimated cost on your app.
Entering the market with QuickRides Ride-Hailing Software will be the right choice. More and more business owners are now opting for this user-friendly and cost-effective solution. Just not we deliver the app solutions with ease but make sure you get the best results in time. Get interesting, engaging, and unique app technology to earn the most profits in no time. Our QuickRides solution can help you build a strong presence in the market. Pre-built Rideshare Software can aid in bringing desired growth and exponential results for your ride-sharing business without wasting much time. Just subscribe to QuickWorks, customize our QuickRides solution according to your business, and start using your app. Over the market, we have been testing the app solutions and taking market responses with affirmed feedback. We deploy ready-to-launch SaaS solutions that create an excellent digital presence for your business in the industry.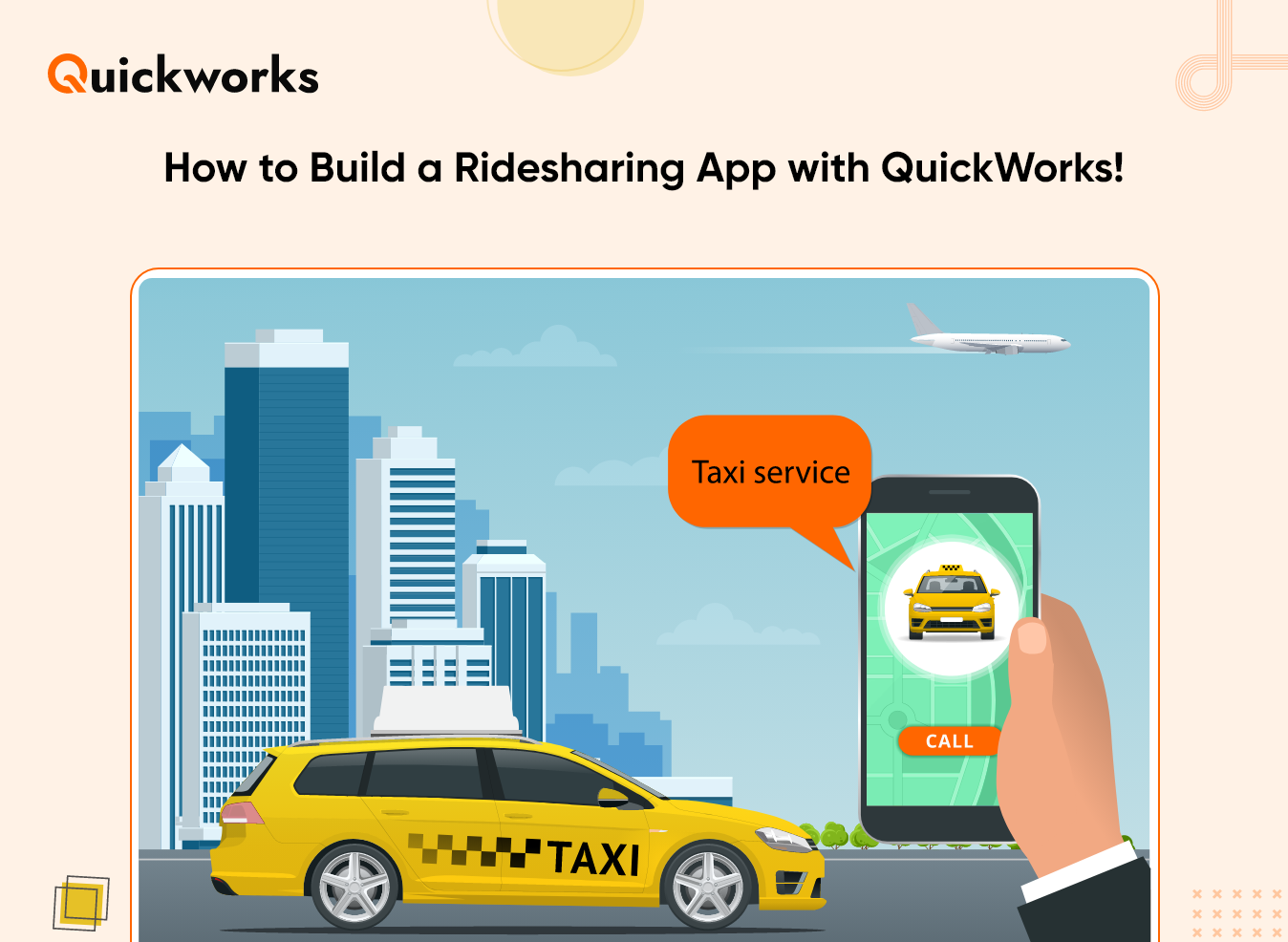 Time- Our pre-built Ridesharing Carpool App is built for those who consider time as their priority. No development is required to deploy our solution and hence your market launch duration is less.
Hassle-free- Create a Rideshare App with a readymade SaaS product to save yourself from the hassles of project management and development.
Cost-Efficient- If budget is a constraint and you know How to Build a Ridesharing App, no solution is better than QuickRides. Our solution caters to multiple clients and helps them launch their apps with advanced features and functionalities. This reduces your development time as well as the cost.
Customization- We Build an On-Demand Ridesharing App that is fully customizable as per your business objectives. Own the app by subscribing to the model or creating the app from scratch.
Scalability- When you start your business online with the quickest solution, you can beat your competitors fastly and easily. QuickRides has the ideal technical capabilities to scale your product in the market.
Get the support of a professional Ridesharing App Development Company to disrupt the industry. Ensure to offer a solution that fulfills your target audience and the driver's needs. Make a unique selling point to attract a maximum audience and convert them to loyal customers.
Don't Halt for More- Take This Ride with "Quickworks"!
Global government organizations are now enforcing strict automobile pollution restrictions to boost the use of ride-sharing cab businesses for daily commutes. As a result, the Ridesharing App Development market is growing and is predicted to rise by more than 115 percent. According to Statista, the market value of the ride-sharing app market is estimated to be over 185 billion dollars by 2026.
Big players DiDi, Uber, and Lyft are the sector's significant participants. But this doesn't mean that a new Rideshare Software cannot enter the market. Uber was the very first and most prominent player in the ridesharing business market, but still many apps were introduced and they established themselves in the market. Every Ridesharing Carpool App is blank board, you need to complete it with your USB. Gain your business momentum by harnessing the power of digitalization. Let's innovate together and drive the future of mobility. Contact QuickWorks if you want to scale a ride-sharing business with emerging trends.
QuickWorks is a technology partner that stands firm at every stage of your digital journey!

Frequently Asked Questions(FAQs)
 Ridesharing refers to one-time shared trips arranged through a mobile app where passengers share a total ride cost and the owner saves on fuel costs. 
Here are the steps:
Request- Riders specify where they're going and when.

Booking- Passengers look through the list of trips and book a ride.

Payment- Passengers pay in the app or in cash when they complete the ride.

Rating- Riders rate the trip and leave their reviews.
Before starting a ride-sharing app, it's crucial to pay attention to the price-forming factors such as:
1) Development Models
2) App complexity
3) Design Requirements
4) Support and Maintenance 
Taking into account these factors, they play a significant part in estimating optimal cost and the quality of your app.
To safeguard the security of passengers, ridesharing apps include safety procedures such as driver background checks, in-app communication, and the option for passengers to evaluate and review drivers.
A ride-sharing app has the ability to differentiate itself in a crowded market only if it provides a superior user experience and unique features.
Chubby & Enthusiastic! Proficient in marketing research and statistical analysis. Highly creative with my thoughts about the latest mobile and web advancements. Dwell up the tech world with my glasses :)
Subscribe to Get Search Free
Updates on Upcoming Tech Stories.